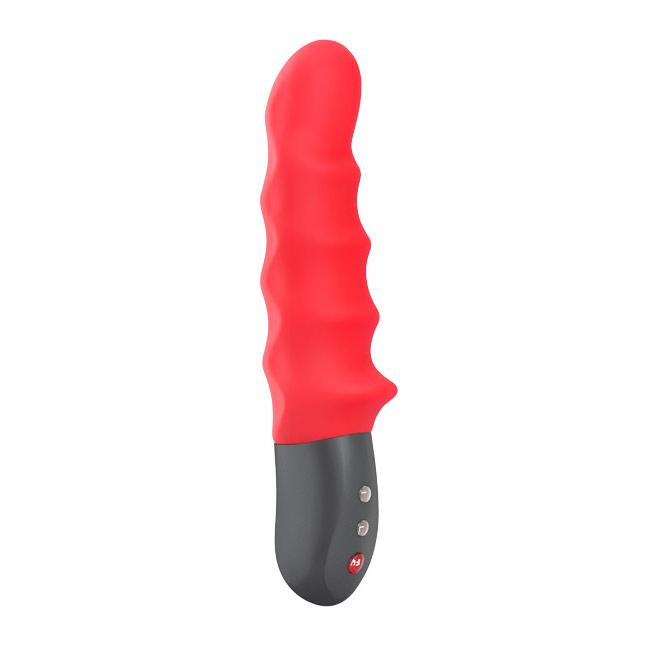 Fun Factory Stronic Surf Pulsator Orange
Fun Factory Stronic Surf
Pulsator, Get ready for your Übergasm!! Unlike other sex toys, the
StronicSurf
is designed to reach every nerve ending with its pleasure wave texture. The
Fun Factory Stronic Surf
can also be used hands free due to it's patented Pulsator technology which creates a thrusting motion all by itself. This incredible pulsator toy has 7 speeds, 3 rhythms and is incredibly silent.
Fun Factory Stronic Surf Pulsator
, The PULSATOR II. Slimmer and more lightweight. Deep massage for fuller orgasm. Hits multiple hotspots at once. Hands-free thrusting motion.
Nearly silent. 7 speeds & 3 rhythm settings. Made of body-safe silicone. Waterproof & rechargeable.
2 year warranty. Designed & handcrafted in Germany. 5.6" length / 1.8" diameter.
https://www.youtube.com/watch?v=dESzw1Xt7zE
Slimline version of Stronic
Great solo or with a partner
Smaller, more discreet size
Lock function for hassle free travel
Intuitive button interface
Charge indicator lights
Low battery warning
Non-porous and hypoallergenic
45 minutes of play on highest speed
6-8 hours initial charge
Designed and handcrafted in Germany
Rechargeable – Love the Earth
Waterproof – Get wet
Silicone Body Safe Materials…of course
Sexy Living
recommends that you read the instructions prior to use.
Fun Factory Stronic Surf Charging Instructions
Charge the Stronic Surf for 6-8 hours prior to using for the first time. When you first attach the charger cable, the Fun Factory symbol will illuminate for a second and then you can see the level of current charge
0-33% Charged - Top button (minus) Flashes slowly (all other buttons are off)
34-66% Charged - Top button On (minus) , Middle button (positive) Flashes slowly
80-90% Charged – Top and Middle button On, Fun Factory button flashes slowly
100% Charged – All 3 buttons are Off
Disconnect charger cable after 8 hours or when all buttons are Off
zzzzzzzzzzzzzzzzzzzzzzzzzzzzzzzzzzzzzzzzzzzzzzzzzzzzzz