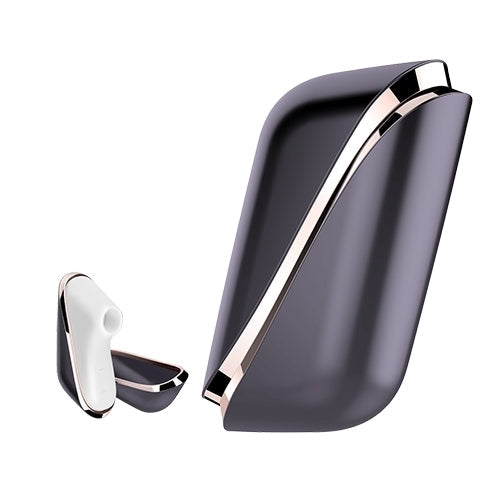 Satisfyer Traveler - aubergine, rose gold
Product Description:
The Traveler, both chic and portable, features our proprietary Air-Pulse Technology, making you weak in the knees. Whisper-quiet and topped with a magnetic cap, this tender gem is great for "grab and go" moments and secret rendezvous.
The Satisfyer Traveler: Handy excitement on the road
Like its big siblings the Satisfyer Pro 2 and Satisfyer Penguin, this pressure wave vibrator will give you exciting orgasms – but in a handy form for on the go. Whether you're on a business trip or vacation, the Satisfyer Traveler fits easily in your carry-on luggage - and the classy design means you can stay discreet. No compromises were made on the breathtaking technology inside, making the Satisfyer Traveler a true sexual lifestyle product. So you can be sure of your sexual wellness wherever you go in the world.
What's special about the Satisfyer Traveler?

Whether you're a frequent flyer or prefer road trips, the stylish cap magnetically seals your Satisfyer when you travel, making it a discreet and hygienic accessory. With 11 programs, this handy pressure wave vibrator will get your blood pumping. And thanks to the waterproof design, you can even enjoy pulsating orgasms even in your hotel bathtub. The integrated rechargeable batteries are easy to charge via a magnetic USB charging cable so it's always ready for your next exciting trip.

The cuddly attachment that nestles around your little pearl is made of medical grade silicone and offers a smooth and slick surface. Combine this pleasant material with a few drops of water-based lubricant to intensify your exciting experience with the Satisfyer Traveler. The skin-friendly silicone can be cleaned easily afterwards with a little soap and water. Or you can also use a disinfectant cleaner for sexual wellness devices or appropriate disinfectant spray.

This little jewel is the perfect travel companion that will reliably provide you some hot excitement and incomparable satisfaction.

 

zzzzzzzzzzzzzzzzzzzzzzzzzzzzzzzzzzzzzzzzzzzzzzzzzzzzzz