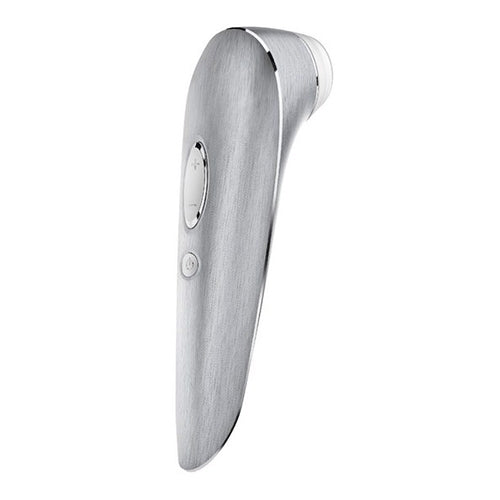 Satisfyer High Fashion - silver
Product Description:
The Luxury High Fashion is the Queen of couture sex care, featuring a uniquely cut brushed aluminum design, this fierce weapon of pleasure will elevate your orgasmic experience, and take your body to the peak of its power.  
Satisfyer High Fashion: Extravagant & elegant
Pressure wave stimulation and a luxurious design? The Satisfyer High Fashion can do both! The high-quality pressure wave vibrator made of hand-brushed aluminum captivates with its elegant, minimalist look and stimulates the clitoris with a sensual combination of pulsating pressure waves and powerful vibration. The round application head made of extra soft liquid silicone surrounds your pleasure pearl perfectly, titillating you with a caressingly soft feel. The ergonomic body of the High Fashion also fits comfortably in your hand.
The Satisfyer High Fashion also has additional benefits

The Satisfyer High Fashion from the Luxury Collection can be easily controlled via the intuitive control panel – so you can control and combine the 11 pressure wave intensities and 10 vibration programs separately. You will always find the right program for your needs from among all the possible combinations. The pressure wave vibrator can join you even under the shower or in the bathtub thanks to its waterproof (IPX7) finish. If your High Fashion ever runs out of steam, its integrated batteries can be recharged with the included USB charging cable.

zzzzzzzzzzzzzzzzzzzzzzzzzzzzzzzzzzzzzzzzzzzzzzzzzzzzzz