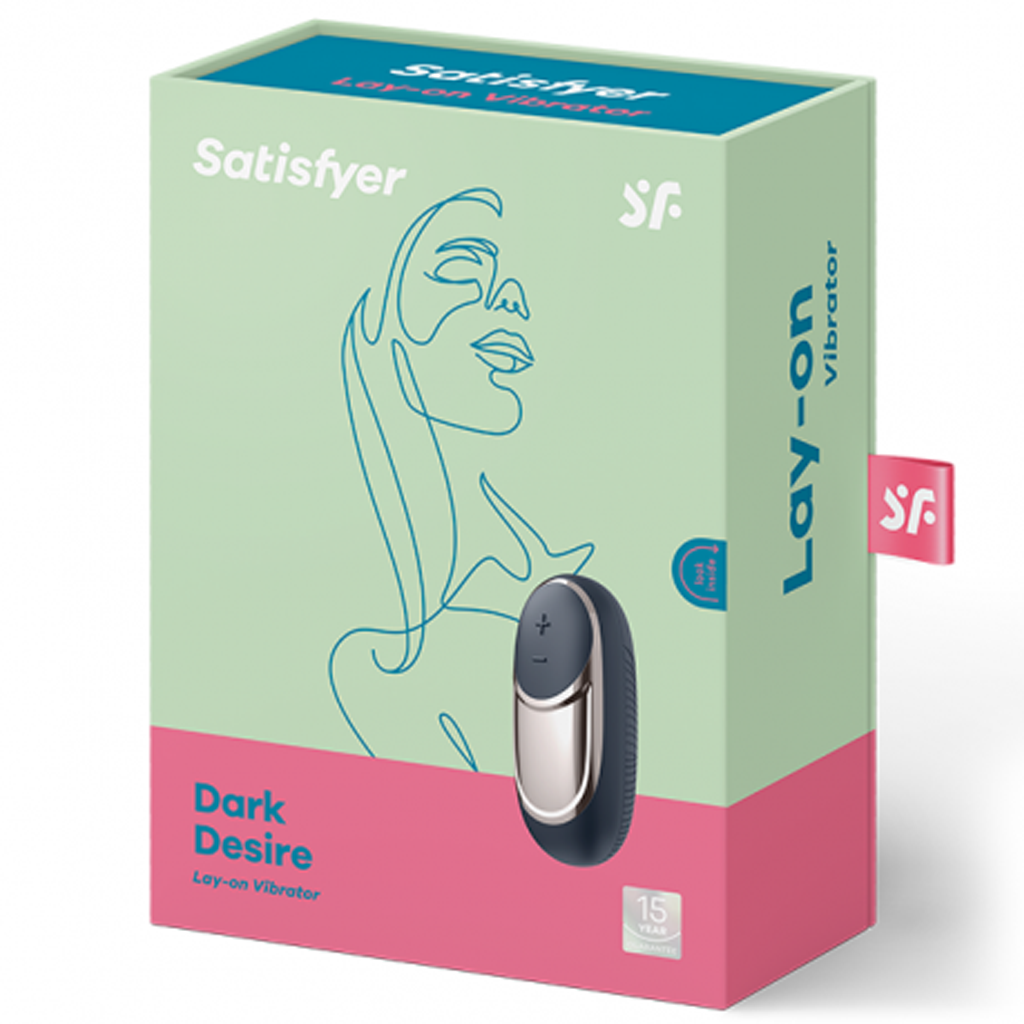 Satisfyer Dark Desire - Dark Blue, Brass
Product Description:
Our Dark Desire lay-on vibrator fits perfectly in your hand like a sexy remote control. Its wide surface, made of supple silicone and embellished with grooves, is perfect for solo play or a sensual couples massage.
What's so special about the Dark Desire?
The Satisfyer Dark Desire is a handy lay-on vibrator that will give you breathtaking waves of pleasure with its powerful vibrations. The wide design stimulates your clitoris over a large area, and its grooved surface gives your skin a tingly feeling. The rounded, voluminous tip skilfully stimulates your little pearl - but doesn't forget the surrounding nerves as well. Despite its compact design, the Satisfyer Dark Desire hides a powerful motor that will spoil you with 15 exciting vibration levels. The vibration levels are composed of 10 rhythms and 5 speeds, so this pleasure-bringer can adapt perfectly to any mood. The device is whisper quiet, and can be controlled intuitively with the soft silicone buttons. If your little playmate is exhausted after a session, you can recharge it with the included magnetic USB charging cable.
Is the Satisfyer Dark Desire waterproof?

You can use this lay-on vibrator wherever you want. Whether it's in the bathtub, shower, or between your comfortable sheets, the Satisfyer Dark Desire is waterproof (IPX7) so it's always ready for sexy adventures, alone or with your partner. Indulge in a warm, cozy bubble bath and enjoy intense pleasure and breathtaking climaxes with your new gem. You can clean the delicate, skin-friendly silicone easily with a little water and soap or a sexual wellness device cleaner so it's always ready for another round. This vibrator is a must-have for any collection.

 

zzzzzzzzzzzzzzzzzzzzzzzzzzzzzzzzzzzzzzzzzzzzzzzzzzzzzz