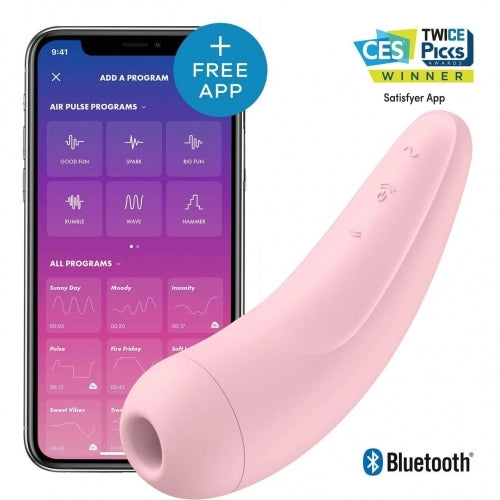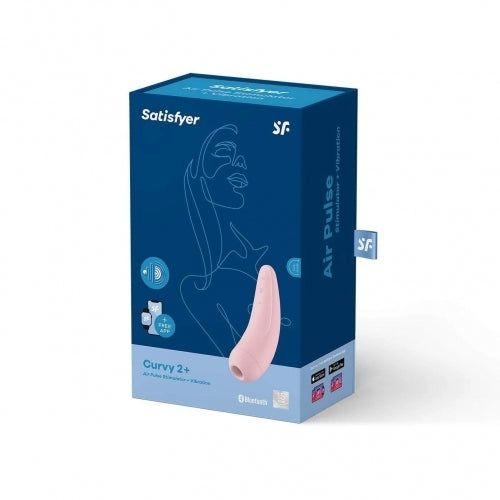 Product Description:
The Curvy 2+ stimulates the clitoris with a combination of air-pulse stimulation and intense vibrations. The ergonomic shape makes for an easy handling. Its functions can also be controlled via Connect App.
What's the Satisfyer Curvy 2+?
The Satisfyer Curvy 2+ is a pressure wave vibrator that gently surrounds your clitoris with its soft silicone head and catapults you to breathtaking climaxes with no-contact pressure wave stimulation and luscious vibrations. Choose between the exciting intensity levels of the pressure waves and combine them with the vibration programs – it's so easy to let this pleasure-giver flood you with waves of excitement. Do you like to enjoy your sexual wellness in the shower or in a soothing foam bath? Perfect! The Curvy 2+ is waterproof (IPX7) and can come along with you on your little adventure. If it loses power, you can recharge the lithium-ion batteries in an easy and environmentally friendly way with the included USB magnetic charging cable.
What's so great about the Satisfyer Connect app?

The special thing about this little gem is not only its ergonomic shape and impressive performance, but also its ability to breathe new life into your lovemaking with app control. The Satisfyer Connect App, which is available free of charge for Android and iOS, allows you to connect the Satisfyer Curvy 2+ via Internet or Bluetooth to your smartphone, which you can then use as a remote control. Even your Apple Watch or your tablet can take control of your clitoral stimulation. You can convert ambient sounds into exciting vibrations that you experience directly through your Satisfyer using the app. It's even possible to convert entire playlists from Spotify into rhythms for your vibrator. Of course you can also hand over the scepter to your partner or other users and let them stimulate you via the app – live, remotely, or on video chat. There have never been so many ways to experience pulsating orgasms.
The Satisfyer Connect App is of course GDPR-compliant and meets the German and European data protection guidelines. We use continuous encryption, so your lovemaking stays between you and your partner.
Try the Satisfyer Curvy 2+ with its innovative app control and give your lovemaking a whole new dimension!

 

zzzzzzzzzzzzzzzzzzzzzzzzzzzzzzzzzzzzzzzzzzzzzzzzzzzzzz