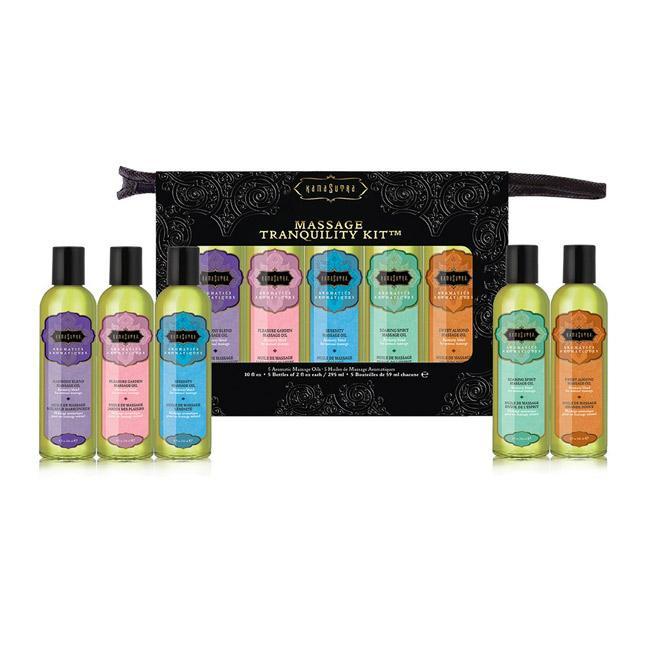 Kama Sutra Massage Tranquility Oil Kit
Take romance with you…Try all of five blends of Aromatics Massage Oil with Kama Sutra Massage Tranquility Kit. Formerly known as the Massage Therapy Kit. Designed for all the moods that lovers experience. This handy take-along kit contains everything you'll need for a soothing and sensual massage. Try all five blends of Kama Sutra Aromatics Massage Oil with this travel kit including;


Serenity - Essences of marjoram, geranium and lavender- a calming blend created to ease stress and release tension.
Pleasure Garden - Combines rose, jasmine and sandalwood- a euphoric floral blend designed to promote feelings joy and release inhibitions.
Sweet Almond - A classic blend of sumptuous sweet, almond oil.
Harmony Blend - Essences of juniper, pine, lavender and rosemary- a soothing, rejuvenating remedy for the mind and body.
Soaring Spirit - Sensual blend of essential oils of orange, lemon, mint, geranium, ginger, fennel and rose.

Includes five petite massage oils in a zippered case. The TSA approved sizes are perfect for travel. Made with essential oils, these rich, emollient formulas make it a pleasure to give or receive a romantic full-body massage, wherever you go. Available in 5 bottles of 2 Fl. oz set.

zzzzzzzzzzzzzzzzzzzzzzzzzzzzzzzzzzzzzzzzzzzzzzzzzzzzzz