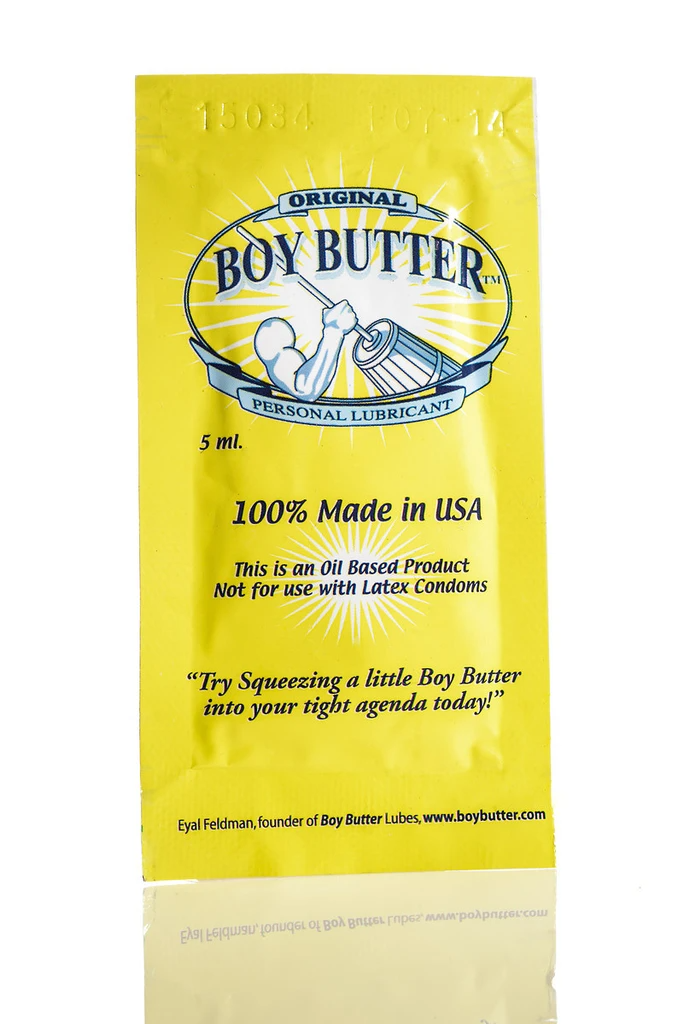 Boy Butter Original Formula Single Use Packet
Boy Butter Original Single Use, 5ml, Perfect for trying out a new formula or taking on a trip as they are travel safe, and can fit in a pocket, wallet or purse.
Boy Butter Original is a coconut oil based formula that is homogenized into a creamy personal lubricant that goes clear on contact with skin and will last as long as any silicone formulas. It feels so smooth and light and gives you the perfect level of friction each time you use it while being edible, non-toxic and completely washable from skin and fabrics with just water, no messy cleanup.  Perfect for any type of massage and all will enhance all forms of pleasure.
100% Plant Based Formula
100% Safe for Men & Women
100% Silicone Toy Safe
100% Non-Toxic, Edible, Washable
Warning: Not Latex Condom Compatible - Can be used with Non-Latex Condoms

Ingredients: Partially Hydrogenated Vegetables Oils, Glycerin, Polysorbate 60, Tocopheryl Acetate, Glyceryl Stearate, Phenyl Trimethicone

zzzzzzzzzzzzzzzzzzzzzzzzzzzzzzzzzzzzzzzzzzzzzzzzzzzzzz